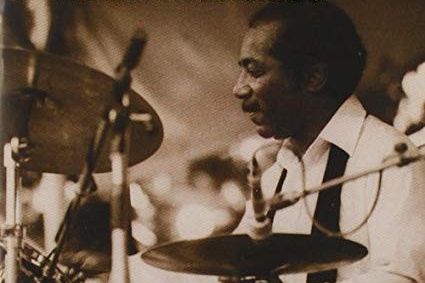 Deep Cut: Oliver Jackson & Kenny Burrell
Happy birthday to drummer Oliver Jackson, born in Detroit on April 28, 1933. The brother of bassist Ali Jackson, Oliver had a long and varied career. He could swing in any idiom, and he worked and recorded with pre-bop stars like Earl Hines, Buck Clayton and Coleman Hawkins as well as modernists Yusef Lateef, Will Davis, Kenny Burrell, Gene Ammons, Rahsaan Roland Kirk and others. He also was a member of the JPJ Quartet, a cooperative group in the '70s with Budd Johnson, Bill Pemberton and others.
Jackson, who died in 1994 at age 61, got off to a quick start. As a teenager in Detroit in the late '40s, he was part of cooperative group with his brother on bass, pianist Roland Hanna, and saxophonist Joe Alexander. Especially intriguing is that Jackson teamed with fellow drummer Eddie Locke in a variety-show act in 1953-54. They called themselves Bop & Locke. Both sang, danced and played drums. They apparently worked one gig in Detroit, before appearing at the Apollo Theatre in New York in 1954. But that was as far as the duo went, and they both quickly returned to their day gigs as full-time jazz drummers. I wish there was film of Bop & Locke — it would surely illustrate specific connections between jazz and wider popular culture that have been lost for decades.
Jackon's recording debut came c. 1953 in Detroit on the Fortune label with pianist Otis "Bu Bu" Turner (misidentified on the label as "Boo Boo"). Released in 1953 or '54, "Coolin' with Boo Boo" (sic) and "I Goofed" are also among Kenny Burrell's earliest recordings. Ali Jackson is the bassist. While these sides have never been reissued, I was able to track them down and hear them, and I talk about them in connection to Burrell's development in "Jazz from Detroit."
Turner recorded again for Fortune, probably in 1954, this time with Clarence (Gene) Shaw added on trumpet. Released in 1955, these side have also never been reissued, but the 7-inch, 45-rpm single has shown up on YouTube. The discographical details are slippery, so bear with me.
There are two tunes — "Hornet's Nest" and "Rose of Tangier" — that were first released under Turner's name as Fortune 823. But you will notice that the record label in the YouTube video says "Kenny Burrell with the Bu Bu Turner Group" and that "Ground Round" has replaced "Hornet's Nest" — yet the label still says Fortune 823. I THINK the explanation is that after Burrell moved to New York in 1956 and made a name for himself, Fortune tried to capitalize on the guitarist's rising profile by releasing another version of 823 under his name. They also also changed one of the titles, though "Ground Round" and "Hornet's Nest" are the same song.
"Rose of Tangier" is a pretty wild record. It's an AABA song with an exotic if vague "On the Nile" flavor. It's credited to Devora Brown, co-owner of Fortune with her husband. She was a published songwriter, but I doubt that she conceived the uncredited arrangement — it's elaborately plotted, with shifting rhythms, textures, interludes, and other formal wrinkles that bring to mind Dizzy Gillespie and his circle of composer-arrangers. Also note the unsual presence of electric bass. Discographies list Ali Jackson on the date, but there's a strong possibility that it's actually Billy Burrell — Kenny's older brother — who was an early adapter to the Fender bass.
The introduction to "Rose of Tangier" echoes the interlude of "A Night in Tunisia," and the melody is girded with a Latin/rhumba beat and bass vamp. There's an 8-bar percussion interlude after the melody chorus, and that's followed by a swinging 16-bar ensemble shout. Shaw improvises the bridge, followed by a return to the shout figure. Burrell and Turner split a chorus over the rhumba beat — though the bassist keeps walking in 4 rather than switching back to the vamp. The band returns to the bridge for an abreviated out chorus, ending with percussion and a fade-out. There's fine playing all around. Shaw, who would work with Mingus in New York a couple years later, has an expressive sound with a dark complexion that leads the ensemble. Burrell solos fluently with a crisp attack, and Jackson negotiates the rhumba and swing rhythms with flair.
Shaw lays out on "Ground Round," a casual, riff-based blues at a medium-bright tempo. Burrell's soulful lines and tone sound very much like they would on his first recordings in New York in 1956. Turner, a solid modernist, was highly regarded in Detroit in the 1950s but never left the city. Jackson's brush work is especially swinging and tasteful. The standards in Detroit were high in those days.