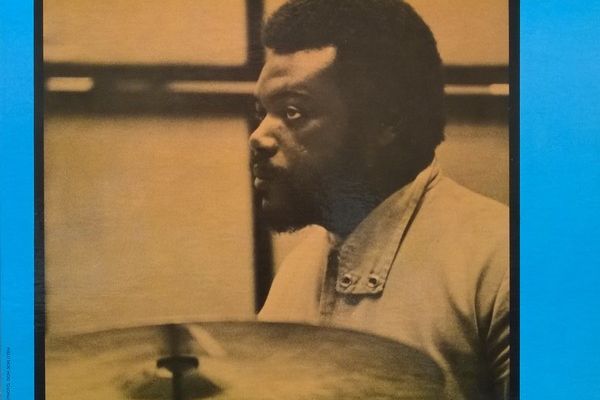 Drum Ode
I never really got to know the great Detroit drummer Roy Brooks. His story is tragic — musical brilliance, jack-rabbit start to his career by joining pianist-composer Horace Silver at age 21 in 1959. His subsequnt resume was deep (Mingus, Roach, Yusef, Dexter, Stitt, etc.), and he recorded widely. Brooks was super swinging and fiery, and he matured into a creative conceptualist as the leader of his own projects; he also played the hell out of the musical saw.
Unfotunatley, Brooks also suffered from severe mental illness and a system, society and personal circumstances ill-equipped to deal with it all. He ended up in prison in 2000 and, finally, a nursing home before his death in 2005.
I interviewed him once upon the 1997 release of "Bemsha Swing," a 2-CD set under Woody Shaw's name recorded in 1986 at Baker's Keyboard Lounge in Detroit. Geri Allen and Bob Hurst are on piano and bass. It was Brooks who sold the tapes to Blue Note. He came down to the old Free Press building to talk to me, and it was one of the most uncomfortable interviews in my career; I wasn't aware of the depth of his issues and that this was the period in which he wasn't taking his medication and was on the brink of the violent confrontations that would soon send him to jail. When he arrived he was obviously unstable. I tried to step as lightly as I could and breathed a sigh of relief when he left. I remember he talked about when he left Horace in 1964. He called it his first "breakthrough" — rather than a "breakdown."
I don't write extensively about Roy in my book, because his story has already been told with sensitivity and insight by my old friend Jim Dulzo in 2001 and 2002 in extended pieces for the Metro Times (Detroit) and Jazz Times. Here are the links:
https://www.metrotimes.com/detroit/music-madness-and-marquette-prison/Content?oid=2172780
https://jazztimes.com/archives/roy-brooks-hard-bop-hard-time/
Why bring up all of this today? Because I noticed yesterday that it was on May 19-20, 1961, that the Horace Silver Quintet with Brooks recorded "Doin' the Thing" (Blue Note), a live album taped at the Village Gate. Brooks had replaced fellow Detroiter Louis Hayes as the drummer in the band a year earlier. The rest of the long-running quintet includes Junior Cook on tenor saxophone, Blue Mitchell on trumpet and yet another Detroiter, Gene Taylor on bass. The title track captures Brooks at his charismatic best. He had just turned 23.
https://www.youtube.com/watch?v=BWjeslQOhfE&list=OLAK5uy_k4iVeukG9ab_NPeXbM10Wm6GaAzWccSgo&index=2