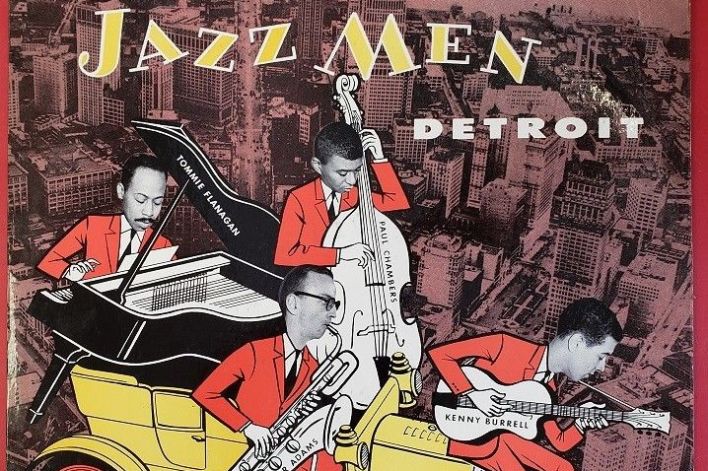 Jazzmen: Detroit
Drummer Kenny Clarke, a native of Pittsburgh, was an early champion of many of the Detroit musicians that flooded the New York scene starting in the middle '50s. On this day, April 30, in 1956, Clarke led a gaggle of young Detroiters into the studio and recorded "Jazzmen: Detroit" for Savoy Records. This was one of the first LPs that alerted jazz fans that there was something special going on in the Motor City, and the imprimatur of Clarke — a founding member of the bebop — was no small thing.
Guitarist Kenny Burrell, 24, baritone saxophonist Pepper Adams, and pianist Tommy Flanagan, 26, had only arrived in New York a few months earlier and were just starting to get calls for gigs and recordings. "Jazzmen: Detroit" was only Adams' second recording session, for example. The youngest of the Detroiters, bassist Paul Chambers, who turned 22 the week before the session, was the best known of the newcomers. He had participated already in more than two dozen recordings, and his fast-rising reputation was cemented by the fall of 1955, when he joined the Miles Davis Quintet.
Here's a hard-swinging version of Ellington's "Cottontail," one of a zillion tunes based on the harmony of "I Got Rhythm." What's particularly interesting is the set of subsitute chord changes that Adams plays when he comes back to solo after Chambers' arco bass chorus. The first four bars of the A section are constructed with major chords moving down by minor thirds — B-flat major 7/G major 7/E major 7/C-sharp major 7. This kind of symmetrical movement in minor thirds was some advanced shit for 1956. The bridge is a series of chromatically ascending ii-Vs starting with A minor 7/D7 to B-flat minor 7/E-flat 7 etc. (Burrell takes a spin through these harmonies too.) These were Adams' changes, though Adams scholar Gary Carner told me that veteran Detroit bassist Ken Kellett once told him that they originated with Yusef Lateef. Adams apparently told Kellett that he had gotten the changes from Lateef.
I'm still skeptical. I don't know of any example of Lateef playing "Rhythm" changes with these chords. That's not an automatic disqualifier, but it would be odd if Lateef never used them himself. On the other hand, Lateef was studying at Wayne State in the middle '50s and could have been familiar with minor-third root movement from modern classical composers. I wonder what exactly Yusef told Pepper. Did he in fact present this chord progression as a literal substitute for "Rhythm" changes or did he merely indicate he was exploring major 7th chords moving by minor 3rds in some other context and then Pepper himself made the leap to apply them to songs like "Cottontail" that are based on "I Got Rhythm."
Wherever they came from and however they got there, they sound damn hip — then and now.