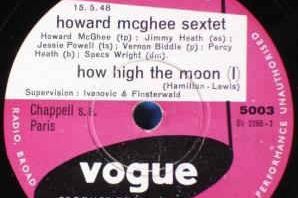 Maggie's Back in Town
Most people don't think of trumpeter Howard McGhee (1918-1987) as a Detroiter, but he grew up here, after having been born in Oklahoma. He was one of the first trumpeters to pick up on Dizzy Gillespie and the emerging bebop style. McGhee's comfort with modern harmony and rhythm, authoritative command of the trumpet, and brashly charismatic personality made him an especially important figure in the late 40s, before drug problems waylaid him for much of the next decade or so. He was never quite the same after that.
McGhee received crucial musical training at Cass Tech in Detroit but didn't graduate. In the early '40s he was a key member of the Club Congo Orchestra, which was in residence at the Norwood Hotel in Paradise Valley on Adams Street. It was the leading big band in the city and played at one of the classiest clubs. The 12-piece band — which accompanied floor shows, comedians and feature acts — was an influential incubator for bebop in Detroit. In addition to McGhee, the band at various times included tenor saxophonists Teddy Edwards and Wardell Gray and bassist Al McKibbon. Those who played in the band described it as a kind of hybrid of Hines, Lunceford and Basie. Pianist Johnny Allen, who would later become a key Motown arranger and share a Grammy with Isaac Hayes for the "Theme from Shaft," did a lot of the writing for the group.
McGhee's finest recordings were made mastly in the late '40s and early '50s for Dial, Savoy and Blue Note. His later dates show a deterioration of technique and sound — though he still sounds strong and inventive (but without the high notes of yore) on the two Bethlehem LPs in 1955-56, "The Return of Howard McGhee" and "Life is Just a Bowl of Cheries" (with woodwinds and strings). Despite occasional inspired flashes, I find the early '60s LPs less compelling — "Music from the Connection" with Freddie Redd and Tina Brooks (Felsted) and "Together Again!!!" with Teddy Edwards and "Maggie's Back in Town" (both Contemporary). After these, caveat emptor.
At his peak, McGhee had a brassy trumpet sound, sterling chops, bubbly articulation, and a go-for-broke attitude that evoked the fiery spirit of Roy Eldridge mixed a with a personalized take on Gillespie's chromatic language. You can hear all of these qualities on this firecracker version of "How High the Moon," recorded on this date — May 15 — in 1948 for the Vogue label in Paris while McGhee was on tour. He leads a sextet with Jimmy Heath on alto sax, Jesse Powell on tenor sax, Vernon Biddle on piano, Percy Heath on bass, and Specs Wright on drums. The six-minute track was spread over two sides of a 78. The link below is to part 2, which includes the trumpet solo. (They play the melody of "How High the Moon" at the top of the tune, but to go out they play "Ornithology," the bebop anthem based on the same chord changes.)