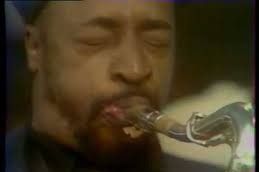 Brother Yusef and Brother Barron
Kenny Barron was the pianist in Detroiter Yusef Lateef's finest working band, a quartet that lasted from 1971-75 with bassist Bob Cunningham and drummer Albert (Tootie) Heath. But the musical relationship between Lateef and Barron, who celebrates his 76th birthday today, actually stretches back to 1960, when the pianist was a precocious teenager in his native Philadelphia.
Lateef was getting ready to play a matinee at the Showboat in Philly and his pianist had missed his flight and wasn't there. Lateef called Jimmy Heath, who recommended the 17-year-old Barron as a replacement for the afternoon. Not long after that, Lateef needed a pianist for a week in Detroit at the end of August at the Minor Key. He called Barron, who had only recently graduated from high school, to make the gig. Barron flew to Detroit — his first time on an airplane. At tne end of the week, Lateef told Barron that he wanted him to write a tune and arrange another for a record date that Lateef had coming up in New York. In October, Barron traveled to New York for the sessions that led to "The Centaur and the Phoenix" (Riverside). Barron's minor blues "Revelation" opens the LP, which also includes his arrangement of the standard "Ev'ry Day (I Fall in Love)," The record boasts an unusual ensemble consisting of six horns — two trumpets, three reeds (including bassoon), and trombone. Particularly noteworth are two intriguing and fastidious scores in a Third Stream vein by the obscure classical composer Charles Mills.
Barron was an important source for me in my chapter about Lateef. He told me several stories that open a revealing window into Lateef's personality and musicianship. I won't unveil them here, but here's a relevant quote from the pianist talking about Lateef: "Physically, he was so big, and he was honest. When he said something, you could believe it. Musically, he was open and very freeing. He wasn't specific in instructions. Just be on time and no drugs."
Lateef's quartet with Barron, Cunningham and Heath was a charismatic and flexible band loaded with personality. It wasn't well-served on record, but three long tracks on "10 Years Hence" (Atlantic), recorded in 1974 at the Keystone Korner in San Francisco, capture the excitement the quartet generated in a club. However, the two remaining tracks of this 2 LP-set feature disappointing studio overdubs layered on top of live material. Discographies show more than two dozen tracks recorded at Keystone remain unreleased. I would LOVE to hear them someday.
The quartet was filmed in Paris for a French television program in 1972 and the footage is fantastic. The closing suite-like piece begins as a fast modal burner. The playing is loose, exploratory, and sometimes quite free. There's a central section in which Heath switches from the drums to a wooden flute and the music takes on a meditative, call-to-prayer vibe of the Middle East. Barron even has a Cecil Taylor moment, morphing from splashy pointillism into two-fisted pummeling. He also winks at "La Marseillaise" at one point. Great stuff.