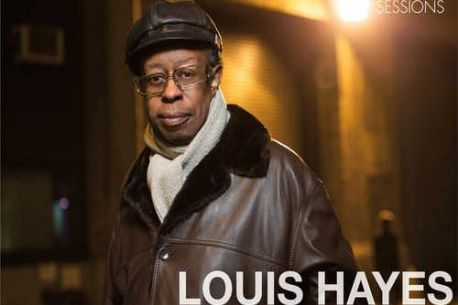 The (Cymbal) Beat Goes On
Happy 82nd birthday to one of the all-time great swingers — Detroit-born drummer Louis Hayes, born May 31, 1937. I spent a memorable couple of days with Louis in the summer of New York in 2002 that included a trip down to Altantic City to hear him perform with his Cannonball Adderley Legacy Band. That trip provides the narrative spine of the chapter about Louis in "Jazz from Detroit." Here's the opening:
—-
It's almost impossible to look hip behind the wheel of a rented minivan, but nobody makes the scene like drummer Louis Hayes, who arrived in New York in the summer of 1956 as a 19- year- old Detroiter with quick hands, sharp ears, and a swinging cymbal beat. Forty- six years later, on a sweltering July 4 in 2002, Hayes wore a stylish muscle shirt, linen pants, and oversized designer glasses and projected such unstudied cool driving down the West Side Highway that he might as well have been piloting a Ferrari rather than a Ford Windstar. Riding shotgun was his wife, Nisha, a real estate agent with her own distinctive style and dress.
Hayes was scheduled to perform in Atlantic City in nine hours. The trip is only two hours from Manhattan, but Hayes insisted on an early start. He follows a strict pre- performance regimen of practice, rest, and concentration. "He's always on a schedule," said Nisha. "I went to Paris with him, and he's been 50 times and had never seen the Eiffel Tower. I had to drag him there." Hayes headed for the Lincoln Tunnel. When it came time to merge, Hayes, who is not as attentive a driver as he is a drummer, came within a few feet of ramming a bus. Nisha looked horrified. "Louis, he doesn't care that you play the drums!" Hayes barely raised an eyebrow and headed for New Jersey.
——-
Coda: Hayes' best record as a leader is 1978's "Variety is the Spice" (Gryphon). The core quartet includes the heroic alto saxophonist Frank Strozier, pianist Harold Mabern and bassist Cecil McBee, with added percussionists and singer Leon Thomas along for the ride in places. Here's Bronisław Kaper's standard "Invitation."
https://www.youtube.com/watch?v=4vzNiAE1MGU&list=PLyHn3f7-9IUIlNZtH_BqLfKkvTFJVIbpZ&index=5