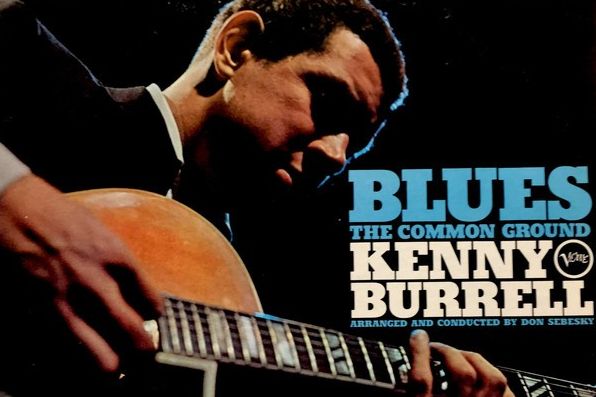 To Kenny with Love
Like everyone else in the jazz community, I was heartbroken to learn in recent days that the influential and beloved Detroit-born guitarist Kenny Burrell, who turned 87 last year, was in dire financial straits. The issues are complicated but boil down to medical expenses following an accident and other troubles that include identity theft. Burrell's wife, Katherine, detailed these woes in a GoFundMe campaign announcement, and the Jazz Foundation of America, which supplies emergency assistance to musicians, confirmed their veracity. In a bit of brighter news, as of Sunday evening, the GoFundMe drive has raised more than $128,000 from nearly 2,500 contributors in three days. Here's hoping for the best as this story continues to unfold.
The chapter in my book about Kenny was put to bed long before any of these circumstances were known. (WIth the book literally heading to the printer within days, we are considering adding a short "editor's note" to at least acknowledge the situation.) I titled Kenny's chapter "Community Builder," because for him music making is an act of social engagement. It's not about his individual glory. His soulful lyricism has a way of spreading among his bandmates and reaching out to listeners, inviting them inside the tent. As Pat Metheny told me: "Kenny always seemed to invoke community to me. It was less about being the soloist and more about being in the music, in the band, in the pocket."
Coda: Perusing the list of contributors on Kenny's GoFundMe page, I came across Metheny's name along with many other well-known musicians. This isn't surprising — Burrell was one of Metheny's first guitar heroes and the jazz community often rallies in public and private ways around musicians in need. Still, I was struck by the generosity of Metheny's donation: $2,500.
Here's a track from Metheny's favorite Burrell record, "Blues: The Common Ground" (1967-68). The arranger is Don Sebesky, and the rhythm section is Herbie Hancock on piano, Ron Carter on bass, and Donald McDonald on drums. (McDonald and Carter split the drum duties on the date.)